Saturday, June 3, 2006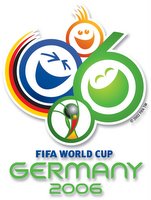 Assalamualaikum. Holiday? Gosh, it is not for me. I think it even more hectic for me. This week, I went out everyday without fail. Next week, I already have plans up to the 3rd week's Monday. Fully booked! Every single day! Gosh, when will I have time for myself?
Actually, I want to write about something but I forget already... Gosh! I will be debating tomorrow. Guys, pray for me... Spare some luck for me!
By the way, the World Cup will be taking the world by storm in just 6 more days! Good luck to England, my favourite team... Although I am not a great fan of soccer but still, I do watch the world cup. It is only the group of matches that I watch. Presenting to you the current icon of Soccer. Hope I can be an icon one day...for something good!