Wednesday, August 31, 2005

Assalamualaikum. Had a great fun today celebrating Teacher's Day at both Innova Junior College and Northbrooks Secondary School. Yup, I manage to go back to Northbrooks despite of the late dismissal just now. There was a vast change in Northbrooks. It is so much livelier now with the intricate colours mixture, graffiti wall, the rock wall, televisions almost everywhere and so much more. I have to compliment the new Principal for this. Well done! Unlike the past few years, it had been a tradition for my friends to return to Yishun Primary School which sadly all of us have to amiss it this time round. Anyway, most of our teachers have either retired or transferred to another school.
At Innova, the day started well with the ACES dance participated
by all the students and not forgetting the teachers, Principal and Vice-principal, who danced so well. Bravo! Later at around 8.30, we moved on to a more exciting moment which is the Basketball Tournament : Teachers vs. Students. Everybody cheered their lungs out and the limelight went to the Teachers who won the tournament. Next on the agenda list was the Class Party. We had to deal with a quandary first as our cg is assigned with no learning studio as our home-room. Sad. Nevertheless, Mr. Teo save the mood and allow us to use the Physics Lab. Yeah! It was a blessing in disguise. We got a large room with water taps and sinks… Great yeah! The day ended with a Teacher's Day Concert in the canteen. Great!
Back in Northbrooks at 12.30 p.m. We took a taxi as we did not want to be late and miss the teachers. Ivan, Kenneth, Lester, Leonard and Wei Lun were already there. Gosh! Got to know the Meridian Junior College students celebrated Teacher's Day on Monday and got a day off on Wednesday and this means that they got 2 days of holiday for Teacher's Day. Lucky people. The teachers were having fun playing games when we arrived. Little that I know the teachers are just like us. They cheered for their peers and jump upon happiness. Hahaha! They ended the game with Line Dance. So fun. After so long, even though Vic and I are still in the same school, just now was the first time we "really" talk to each other after we moved on to tertiary education.
7.00 p.m. I went to MediaCorp TV12 building located along the
Prince Edward Road for the photoshoot session. Met the other debaters who are going for Titian Minda. Anita and Syahidah are so friendly. I was pretty scared at first if they were just stuck up as some debaters who have a lot of experience. Anita was the overall best speakers for Bahas 4PM 2001 and Syahidah was the best speaker for year 2003-04 and both of them already went for Titian Minda in the previous years. They are very amiable people with pleasing demeanour. Hope to see them soon!
Tuesday, August 30, 2005

Assalamualaikum. On the previous entry I wrote that I want to break the news to my
Brooksian friends and teachers is that I got to represent in the Inter-Varsity Debate Competition in Brunei Darussalam from 12th September 2005 till 19th September 2005. I'll be missing school for one whole week. My feelings are really strange now. It is a concoction of different kind of feelings... sad, happy, excited, scared and etc. I am sad because some people are so ignorant and happy cause I am going Br
unei Darussalam. I am excited simply because I was chosen to represent Singapore based on my maiden performance debating. I really have to thank Kak Guy Ghazali for this. Thank you so much! Scared? Of course I have to be scared because I am going to debate with debaters from J2 and University undergraduates. Gosh! I am the youngest from Singapore. There are still couple of things that I need to learn.
Got the motion for the debate today and will be going for a photoshoot session tomorrow at MediaCorp Bestway Building. The worst thing is that we will not be told if we are in the opposition or te proposition team until we reach Brunei. Heard that last year, when the Bruneians debaters came Singapore, they stayed at Royal On Scotts Hotel. Not bad yeah! To me, the ultimate aim in a debate is not to win but to take the learning points from it.
Tomorrow, it will be Teacher's Day's eve and we are celebrating it in school. It will be till 11.30 a.m or so and the "best" thing is that Northbrooks also end at 11.30 a.m. How is it possible that I can go back to my dear secondary school? Haishh! Will be bringing some curry puffs for the class party and we(05S71) actually gave the teachers who taught us an invitation card each. So sweet of 05S71 to do that.
On a serious note, today itself, I am flabbergasted by the news by people dying. 4 news of the daparture of people whom I know from this ephemeral world. Hold on, we'll all meet again one day! It is all God's will... Al-Fatihah.
Sunday, August 28, 2005

Assalamualaikum. I simply do not know where I stand. Is it in a crowd of hypocrites? Is it in a group of respectful people? I am just not sure. Why is it so difficult for one to be sincere in whatever he/she does? Someone think so highly of her/himself. That's not my way. If possible, I'll keep this dearly in my life. Mdm Sadiah once told her pupils that in order for one to succeed in life, he/she needs to have these 4 pillars of the moral values
1. Honesty
2. Trustworthy
3. Sincerity
4. Patience

I'll keep it dearly in my heart. I agree with what she said. Hypocrisy is something that I will forever distant myself from. I hate hypocrites! Gosh! Should they be not God's creation, I would already dump they faraway in living hell. But sadly, they are made up of teachers, personality, doctors and etc.
I've been in dismay for a few days before but I still put up a pleasant facade upon me. Smile, smile and smile! Believe me, everytime I carve a smile on my face, it will be a sincere one.
On Friday, I went for the EmerGenetics course. Ya, what they said are pretty true. The colour chart that they gave me is a legend of myself, not a myth. Nevertheless, I feel that some people got the wrong chart, theirs' are on the contrary of their personality. Amazing.
Saturday, August 27, 2005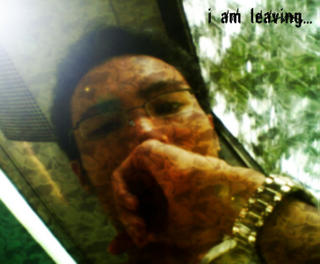 Assalamualaikum... Spent my half of my dear Saturday at Singapore Publishing Holdings (SPH) to help out at the News Writing Competition co-organised by Innova Junior College and Berita Harian, supported by SPH. It was very tiring but nevertheless the forum held just now was a very aspiring as well as an enriching one. I agree with one of the many panelists who said that the interest for self culture and language is something that is inborn and cannot be forced nor nurtured. True, the governement has made a tremendous effort in "opening" a great number of doors and still trying to gap more. From what I saw just now, I must say that I simply do not favour the job of a newspaper reporter. It is just not my cup of tea.
Next week it will be Teachers' Day. My CGmates suggested to have potluck. Interesting isn't it. However, mostly everyone are very excited and wanted to bring a dish each and WOW! It gonna be, not a mini cg party but a cg food fiesta, I would say. I hope school will end as soon as possible on Wednesday because I am really setting my heart on going back to Nortbrooks Secondary School :: Volatilis Tamen Radicalis and break the news to my friends and especially Mdm Zuraidah and Mdm Lorena. The news are ... ... ...
There so many stuffs to be completed before I go. Let me think ... Prasasti Nova proposal, Band QuaterMaster book and files, Physics Tutorial on Wave, Maths Tutorial 19B and the list goes on.
Ahah! Holidays are coming too but I do not think that I'll be enjoying it because I'll be busy preparing for ...
Thursday, August 25, 2005

Assalamualaikum, Gosh! This week started well when I got a call from Cik Yusnita, I am so thankful and greatly elated. Never thought I will go this far. Thanks so much to Kak Guy and also, I know very well that all this happen because of HIS actions (gerakkanNya yang maha Esa). Alhamdulillah. However, in the middle of the week, it was horrible and turns out to be horrendous. Gosh! I am superly, utterly dissapointed. Can't believe that they(whom people think highly of) can actually do this to me. i am so sure that they don't deserve a single pinch of respect from me. At first I thought, I should hold them up there on top of my respectful head but no, I was wrong. They only deserve to be at the sole of my foot. Disgusting creatures!
Monday, August 22, 2005

Assalamualaikum... Alhamdulillah... Alhamdulillah... Alhamdulillah... That's all I can say! Nothing more. I'l lose for words and what granted to be by Allah is so much and Alhamdulillah. I want it to keep it as a secret although some who are close to me already learn about this golden chance dine to me. Unequivocally, I must say that my feelings right now are all stirred up. A great concoction of feelings and the ingredients are:
A cup of happiness
A pinch of excitement
A teaspoon of fear
A pinch of delightment


Never ever I want a sense of proud to pullulate in me and turn to be someone who is "stuck up". Nope, nevermore would I want my personality to be so. I hate arrogant people!
Saturday, August 20, 2005

Assalamualaikum. It's been a not-so great day today. Pretty sad that my dear Saturday has gone to waste. I must stop procrastinating all my tasks and schedule and set back on the the right track. Come on, Izwan! Wake up. I will soon. Teachers' Day is coming real soon and I am all excited to go back my dear Brooksian Teachers who've help me so much and entrust me with so much responsibilty. Thanks. They've bring out the very best out of me. Thank you.
aku menongkat dagu tanda ragu
menanti tibanya fajar menyinsing berlalu
hadir selembar hari yang baru
setia menungguku tanpa jemu
aku gentar menghadapinya
tetapi aku alpa dengan kewujudanmu
namun, aku tidak membiarkan ia terus menyelebungiku
aura lemas kusingkirkan jauh ke danau resah
engkau berada di situ tiada seru
aku menghampiri dirimu
yang bakal meninggalkan kesan di lubuk hatiku
akanku dampinginya sang silara
kini ku tahu
engkau manusia yang telah membuka mataku
bisa kulihat hamparan biru yang luas menyelimuti duniaku
akan ku gapai bintang nan satu, ini amanahku
teman, amanahmu, amanaku bersatu ...
This is what I'll always do to kill the mundane life of mine.
Friday, August 19, 2005

Assalamualaikum. I've been contemplating wether I should change the host of my blog, either friendster or blogger but finally made a decision after so much persuasion from my peers. Had a short day in school today. Went to pray at Darul Makmur Mosque just now with Ismail and Azri. Surprisingly, Samir was there too. It's been a long time since I've prayed there, probably a month ago. In the past, it was a routine for me to pray there every Friday with Saddiq, Saddiqi and Ismail. Every week, with the same people, at the same place, at the same period of time, on the same day, via the same route. How possible can I forget those moments. Never, I mean forever.

Last Wednesday, Bashirah, Hilwa, Ricca, Khairul, Shibly and I went to Wisma Mendaki to attent the Dialogue Session with Dr. Yaakob Ibrahim initiated by 4PM and reached home at 11.15pm. I am so impressed by him and Encik Zainul Abidin Rasheed. These 2 eloquent speakers are apparently the icons that we the Malays, in fact everybody, should venerate as idols. They've made it big out there and continually upgrading themselves. They impress me with the burning passion they have to open the Malay society's eyes and lead them to the different doors of opportunity that await for them. I am truely inspired by them. Frankly and sincerely, I feel that 4PM is a great organisation and I surely have no doubts to join the force of volunteering. Many people have touch my life in a way or another be it in a barbaric manner or a pleasant one and now I think the time is just ripe for me to touch others' lives. I've longed to do so.

Currently, I am maintaing 2 blogs simultaneously. One is my personal one and the other one belongs to the Penerbitan of my school. Pretty glad that most people are happy with the name I came out with;

Prasasti Nova :: Pendita Kesuma Di Persada Mara

.

As for Symphonic Band, I keep changing instruments but believe me people, all of them belong to the same family : Saxophones. First I played the Tenor Saxophone(the one I am major in) then later Alto Saxophone and the latter one is Baritone Saxophone. Gosh!